"Spring Is Coming": Why Europe Looks Set To Surprise On The Upside
Is the winter of Europe's discontent coming to an end?
After a long period of economic pain which many believe culminated in Europe's descent into recession just as the ECB's QE of public bonds came to an end, in a note titled "Spring is coming" and focusing on events in Europe, Bank of America writes that its EU Composite Macro Indicator (CMI) avoided a decline for the first time in 12 months.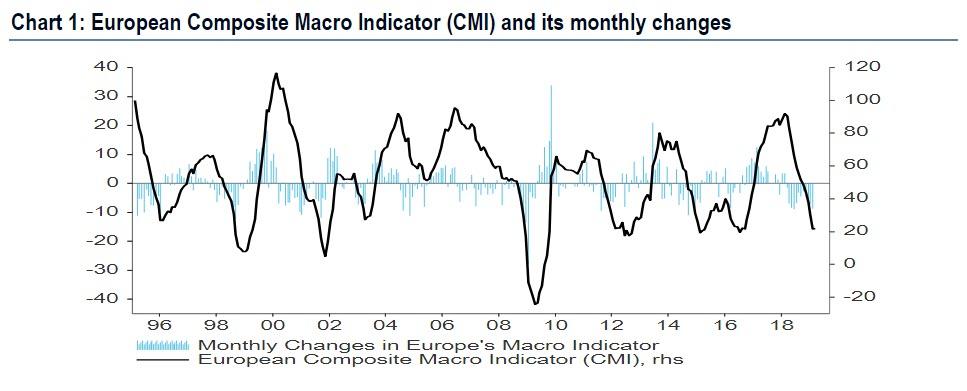 Although the Style Cycle remains in the 'Recession' phase, improvement next month would lead to risk-on rotations within EU equities from May onwards.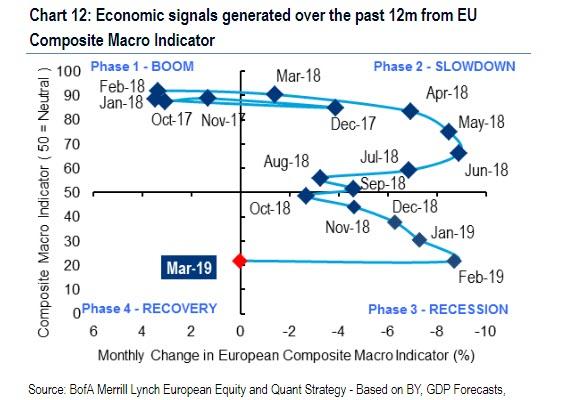 As BofA adds, Jan and Feb this year both saw all 6 inputs to the CMI contract. This was a unique event in the Style Cycle's history, reflecting that European macro was hurt by both domestic and global factors. The picture is significantly better this month amid global central banks pausing on tightening and corresponding narrowing in credit spreads. The EU OECD Composite Leading Indicator improved and Global EPS Revision Ratios are no longer falling, while 10y government bond yields are falling at a much slower rate. The bank's conclusion: while the CMI has stabilised, stronger signals in April will be needed to confirm 'Recovery'.
Morgan Stanley agrees, and in the bank's Sunday Start report, Graham Secker, chief European equity strategist, writes that "Europe Looks Set to Surprise on the Upside."
He explains why in the note excerpted below:
The past year has not been kind to Europe. It's hard to believe that just over 12 months ago, eurozone GDP growth was

running north of 2.5%Y, Bunds were yielding 70bp and European fund managers were enjoying sustained inflows in both

equities and credit. Sadly, such periods of hope in Europe during this cycle have usually set the stage for disappointment,

and this has been no exception. Fast forward a year and GDP growth has slowed to 1%Y, Bund yields have shrunk to just

7bp and we've seen the longest run of persistent European equity outflows in a decade – 50 weeks and counting.
The latest ECB meeting provided little comfort as the central bank made significant cuts to its growth and inflation projections while pushing its forward rate guidance further out. While this may not seem an ideal backdrop to turn more positive on the region, we think that the gloom is overdone and Europe looks set to surprise on the upside.